Scribe.com's real-world analysis confirms that Soniox's AI achieves an eightfold increase in efficiency when creating medical documentation.
For over two decades, Scribe has enabled healthcare providers to optimize productivity and profitability through advanced technology solutions. They have developed a comprehensive platform and products used by tens of thousands of healthcare professionals in the US. During this time, Scribe has utilized various speech recognition AI providers, including AWS, MModal, Nuance, and, most recently, Soniox.
With Soniox's latest AI technology, Scribe measured an eightfold increase in the efficiency of creating medical documentation with human editors involved, as well as improved accuracy in the final documents. With Soniox, in most cases, transcriptionists no longer need to listen to the entire audio. This efficiency allows them to quickly review the generated document for errors. Consequently, instead of spending two minutes for every minute of audio, editors can now spend approximately 15 seconds proofreading for each minute. In terms of time spent, editors are now dedicating only about 25% of the audio's total length to reading and proofing, as opposed to the previously required listening and transcribing.
In addition, Soniox provides useful drafts for all of Scribe's users, demonstrating its speech AI technology's ability to accommodate a wide range of medical specialties, accents, speakers, and recording environments. In contrast, other providers frequently fall short, producing drafts that are not cost-effective for some speakers compared to typing from scratch.   To read more about the integrations, visit Scribe and Soniox – Integration of Technologies
---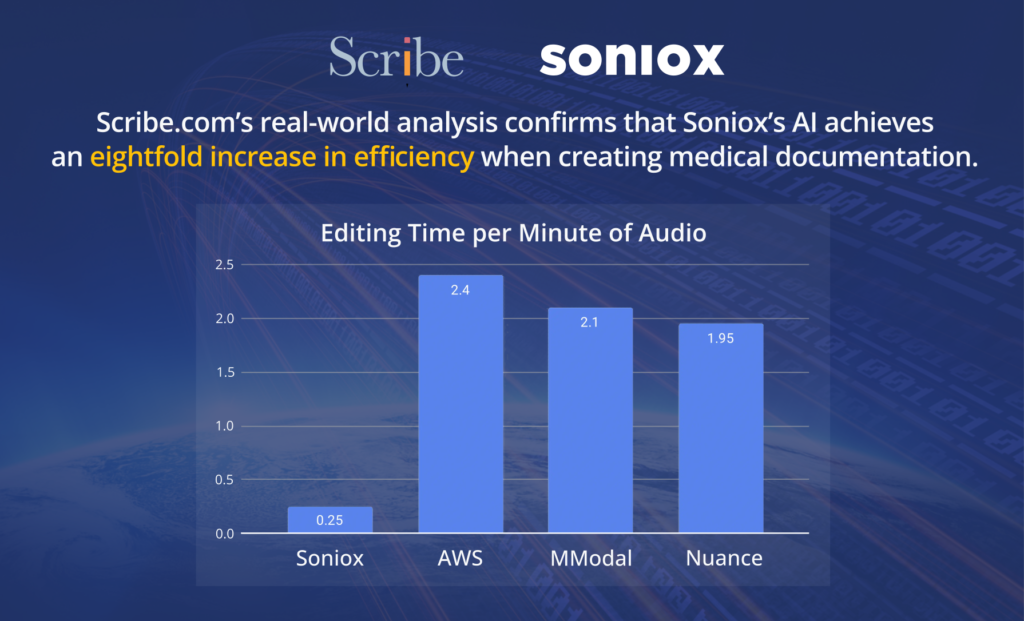 ScribeNow! The future of medical documentation is here
"The Future is NOW!" – with the addition of ScribeNow! Speech Recognition to our flagship product, ScribeMobile, the future of medical documentation is here in the palm of your hand.
ScribeNow! enhances ScribeMobile's already robust set of documentation services – traditional dictation, charting, and live scribing. With ScribeNow! Speech Recognition, providers quickly and easily document encounters in real-time. This gives providers the flexibility they need to improve their productivity, profitability, and patient care with one easy to use solution, with a wide range of integration capabilities available.
Read more about the new features ScribeNow! can bring to medical documentation.
Scribe TeleCare: An innovative solution for telehealth
Scribe TeleCare is an innovative solution that is providing opportunities for healthcare providers to continue to service their clients AND have completed documentation to support the care of their patients and facilitate reimbursement with one easy to use tool.
No more trying to use an app that is not healthcare focused to connect remotely to your patients. Scribe's solution has been designed by healthcare professionals for healthcare professionals. Its flexible architecture makes it easy to virtually replicate your physical office workflow. What's more, you can use this tool with or without the documentation component. It's so simple you can get started immediately.
Read about the features and benefits here – and schedule a demo to get started soon.
Productivity | Profitability | Patient Care
Scribe​™ enables the capture, creation, communication, monetization, and analysis of healthcare information while freeing providers to focus on what matters most – patient care.